The October luncheon will be a Joint SAME-Kittyhawk Post and A&WMA-Southwest Ohio Chapter (SWOC) meeting. 
13 Oct 2016, Twin Base Golf Club House, WPAFB, OH.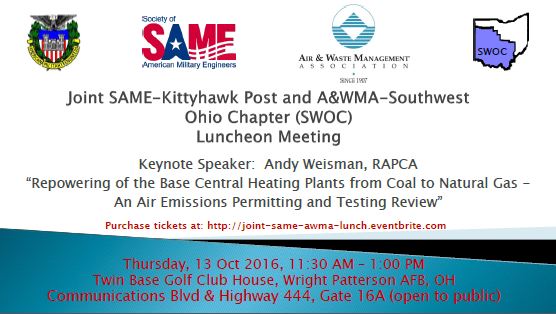 Keynote Speaker: Andy Weisman, RAPCA
Mr Andy Weisman is the A&WMA's president, and is an Air Pollution Control Specialist, with the Regional Air Pollution Control Agency – RAPCA.  He will be speaking on "Repowering of the Base Centra Heating Plants from Coal to Natural Gas – An Air Emissions Permitting and Testing Review." Andy wrote the air emissions permit to repower the boilers at the WPAFB central heating plants from coal to natural gas.