2015 Business Industry Roundtable & Small Business Day
When: Thursday, November 12, 8 am – 3 pm
Where: Twin Base Golf Club House
Click the button below to register!
Also, follow this link for the full flyer: Small Business 2015 Flyer.
Updated Schedule (as of Nov 6th):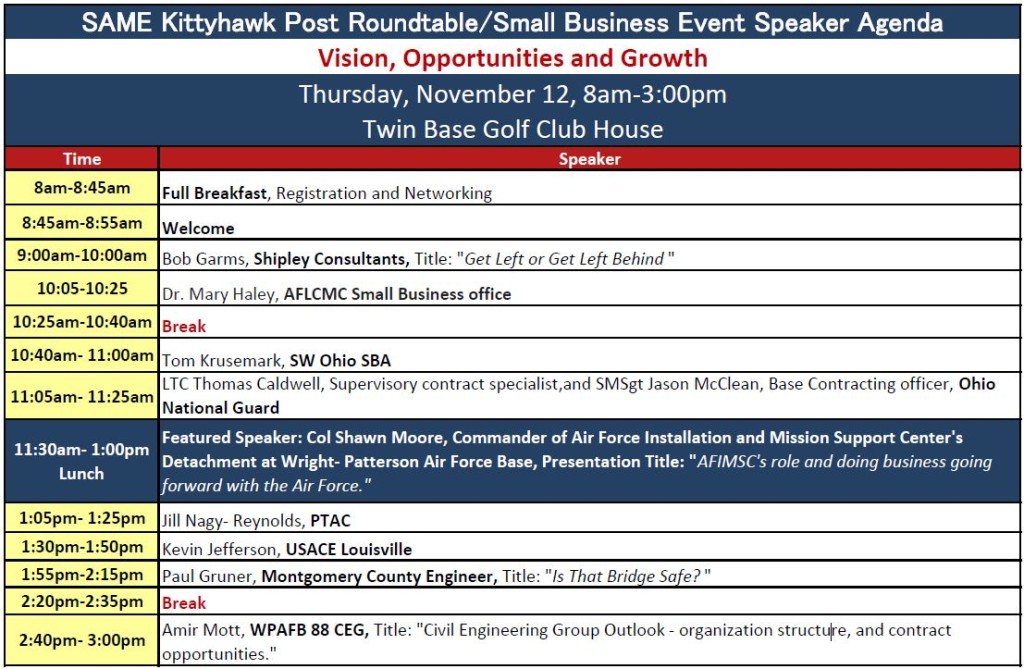 ——————————————————
Now a note on the Key Speaker during the lunch session:
COLONEL SHAWN D. MOORE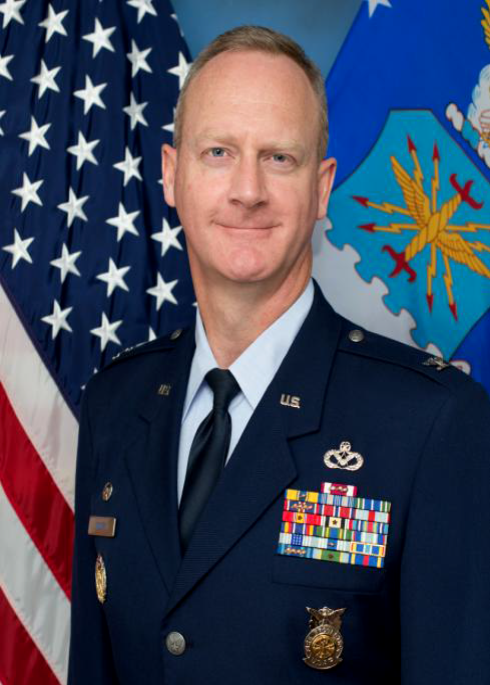 Col Shawn Moore is the commander of Air Force Installation and Mission Support Center's (AFIMSC) Detachment 6 at Wright-Patterson Air Force Base.  Detachment 6 is a relatively new organization which serves as AFIMSC's field liaison unit to Air Force Materiel Command. Col Moore will speak on AFIMSC's role and doing business going forward with the Air Force.  More info on Col Moore is below.
Colonel Moore was commissioned in January 1991 upon graduation from The Pennsylvania State University with a Bachelor of Science degree in Architecture, and entered active duty in September 1991.  Colonel Moore has served in many diverse Air Force civil engineer positions at garrison, MAJCOM and Headquarters Air Force levels.  Most recently, as the former Commander of the 96th Civil Engineer Group at Eglin AFB, Florida, he led a 900-person work force and executed a $146 million budget to provide all facility and infrastructure support for the Air Force's largest installation consisting of over 3,526 facilities, 1,200 miles of roads and 465K acres of land valued at $4.6B. His responsibilities also included explosive ordnance disposal, disaster preparedness support and management of the Air Force's largest fire protection program.  Previously in further shaping his leadership experience in preparing him for his current assignment, Colonel Moore served as Deputy Chief, Installation Support Panel, Office of The Civil Engineer at the Pentagon in overseeing over 215 program elements that provide installation Agile Combat Support capabilities totaling approximately $10 billion.  He further served as Chief of the Environment and Energy Division in leading policy, resourcing and oversight of both the Air Force's $1.1B environmental clean-up and environmental quality programs, and $1.8B facility/infrastructure energy conservation programs world-wide.  Finally, Col Moore has deployed to Al Udeid Air Base, Qatar and Ali Al Salem Air Base and Camp Arifjan, Kuwait, and Al Sather Air Base, Iraq in support of Operations ENDURING FREEDOM, IRAQI FREEDOM and finally Operation NEW DAWN.
Colonel Moore is a native of O'Fallon, Illinois.  He is married to the former Michelle McClintock of Naperville, Illinois and they have two children, Katelyn (19) and Connor (15).
———————————————————————————–
The event includes the exploration of business opportunities
and small business aspects from the organizations listed below:*
 Air Force Life Cycle Management Center
WPAFB 88th ABW/CE
USACE Louisville
Small Business Administration
Veterans Administration
Montgomery County
New this year is a briefing from Shipley Consultants, who will provide info on capture planning and writing proposals.
Please make your reservations early as space is very limited.
For more information, contact Marci Snyder:
Voice: 937.531.1342
Cell: 937.307.5620
Email: marci.snyder@woolpert.comDress: Business CasualStay tuned as the specific agenda for this event evolves!
Access to the Golf Course will be via Gate 16A,off of SR 444. and will NOT require Base Access through a security checkpoint.
There is no need to print tickets or bring them with you.
Club members receive a $2.00 discount if they register and pay in advance.
Credit cards accepted on line or at the door.
Pay at the door option available by clicking on "Other Payment Options" above.
Contact Marci Snyder for more information.
Contact Jeff Leonard, 255-0343, jeffrey.leonard@us.af.mil  with any registration questions.